Mr.Peanut is the mascot for Planters, a division of Kraft Foods, which as you might be able to guess is in the business of selling nuts. To help promote the humble peanut, the company has gone to great lengths creating the ultimate nut-based vehicle. We give you the "Nutmobile!":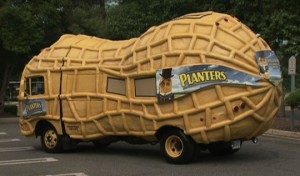 It may not beat a Porsche in the looks department but the Nutmobile has some pretty good green credentials. Based on a 2011 Isuzu NPR diesel truck, the Nutmobile is filled with 5 percent biodiesel, covered in solar panels and fitted with a wind turbine and a host of batteries. Even body panels and the interior are recycled: Floorboards were reclaimed from a dismantled barn, while the windows are recycled glass in frames made of recycled steel.
Despite its unaerodynamic profile, we would still love to see the Stig take a crack at racing the Nutmobile on the Top Gear track!