As the nation prepares for a long weekend of celebration to mark the Queen's 60th Jubilee, many of us will be stringing up the bunting and cracking open the Pimm's to raise a toast to Her Majesty.
One anonymous fan, however, has gone above and beyond the call of duty by plastering a photograph of the Queen on the bonnet of his Lamborghini. Yes, you read that right, his Lamborghini.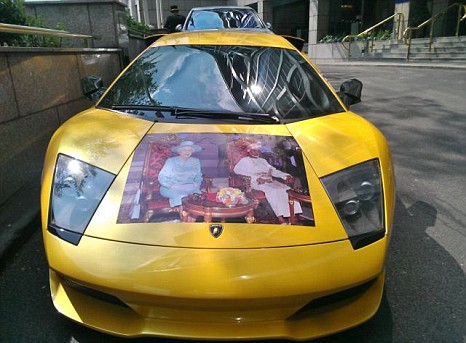 The Italian sports car was spotted, appropriately, outside the five star Kensington Garden Hotel in the Royal Borough of Kensington and Chelsea and drew quite a crowd.
One blogger who picked up on the story commented, 'I'm thinking if I had that much money for that sort of car I'm not sure I'd want to stick a photo of anyone on the bonnet. But then it is the Jubilee week and it is a photo of the Queen.' Well said man, well said.
The photo shows the Queen sitting next to the Sultan of Oman, Qaboos bin Said Al Said, on the occasion of the 40th anniversary of his rule in 2010. This has led to speculation that perhaps he decided to return the favour with this very special Diamond Jubilee tribute.
Whoever the vehicle belongs to, our Liz certainly must have made quite an impression on them. Can you rival this tribute? We'd love to hear from you if you can!