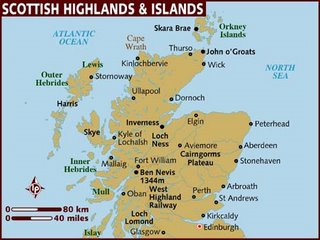 It has long been a sore point for many a Scot, getting items delivered to the highlands often brings with it a much inflated price tag.
Many believe the high increase is unfair, Gordon Brown doesn't and has been accused of "sticking his head in the sand" when it comes to a call for regulation.
An online petition started by Nairn businessman Terence Watson, which called on the UK Government to investigate "unscrupulous" charges levied by couriers and suppliers, attracted 3,382 signatures.
The prime minister said: "The application of price banding for different areas within the UK is a common practice and is based on the fact that greater costs are incurred by the operator to get the parcel to its destination.

"Two key factors are involved – the physical distances are greater, while the density in volume of the packages going to remote areas is smaller. Companies must be able to cover their costs to provide a sustainable business.

"These companies must however try to provide or secure the most cost-effective service to ensure their own competitiveness in their respective market.

"In such a commercial and highly-competitive environment, it is for private carriers and couriers and other companies who use or operate carrier services to review their own pricing structures in response to competitive pressures and market demands."
MP's and local people have accused Mr Brown of sticking his head in the sand and accuse his response as not bearing any relation to the severity of the problem. The issue they say is not that there are increases in charges, however that these increases are not in line with true cost increases. Furthermore there is a case of false or misleading advertising where prices are quotes for 'UK Mainland' with the Highlands cost surcharges hidden away in small print.
In the petition, Mr Watson, of Mannachie Grove, Forres, said delivery service charges to the north, were "restricting economic and social growth".

Mr Watson, who is now going to pursue his campaign by contacting Which? and the Office of Fair Trading, added: "I'm not going to stop here because we should not be treated differently to the rest of the country."
Interestingly as a publicly funded company, Royal Mail by law are required to offer delivery services to any part of the UK. In fact, if there is just one parcel to be delivered to a small farm in the middle of nowhere for example, they still have to make that delivery, regardless of the cost to the environment.
However, this is not the case for independant courier companies, they can choose which areas to deliver to in the highlands and furthermore can dictate the price they so choose.
It is an interesting debate, some may argue that Highlanders shouldn't be treated differently and be charged differently where rates are advertised as "UK Mainland", however, in reality the increase in work, costs and impact on the environment by taking these extra long journeys understandably will attract higher costs.
I doubt very much that Government will take any kind of action for some time on this issue. A compromised solution seems most appropriate to us, but how long would that take? That is the question.