Quentin Wilson of Fifth Gear fame has urged hauliers across the UK to back the FairFuelUK campaign as the threat of a 4ppl duty hike hangs over the transport industry.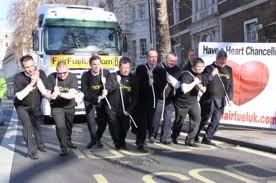 Speaking to Roadtransport.com, Willson said: "We've got tremendous support from the public and we've got some really committed MPs, but we need the 600,000 people that work in the haulage industry to come out and support the campaign. This has the potential to be historic and shape the haulage industry's future. Hauliers won't ever have to worry about the price of diesel again."
On Valentine's day the campaign created a striking visual to support their aims. Representatives from the Road Haulage Association, the Freight Transport Association, RAC, two hauliers and Wilson himself pulled a seven ton lorry over 60 yards along Whitehall to Downing Street.
Bob Russett, MD of Palletline Logistics and one of the truck-pull team, says it is "a disgrace if hauliers don't sign the petition".
The consensus of the campaign appears to be that they need to strike whilst the iron is hot because in just 12 days, on Wednesday 2 March, the FairFuelUK petition will be handed in to Downing street.