Department for Transport MP Norman Baker announced this week an additional £20 million is being made available for the government's Green Bus Fund. The fourth round for the fund, bringing the total support for this initiative to £95 million since its launch in 2009
 "Cutting carbon emissions from transport is not a choice, it is a necessity and that is why I am prioritising green buses and giving operators and local authorities an extra £20 million to deliver on this", said MP Baker
The additional funds are from an under-spend within the Department for Transport and can be applied for this financial year.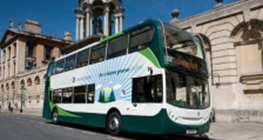 As part of the fourth round initiative the department has also released a tool kit which will allow councils and operators to see at a glance how quickly they can expect a return on investment in low carbon buses using a variety of carbon saving technologies such as hybrid or electric buses. It also shows operators and local authorities the savings on offer through reduced running costs from low carbon buses compared with running a bus using conventional fuels.
Details on the bidding process and eligibility will be published soon on the department's website.
While buses using low carbon technologies tend to be more expensive than conventional buses many are eligible for government support and running costs are usually lower so that, over time, they are actually the more economical choice.