The government has been blasted by Haulage chiefs who have claimed ministers do not have truckers interests at heart and are not concerned over looming job losses.
Chief executive of the Road Haulage Association, Geoff Dunning voiced concerns that the Coalition has turned a deaf ear to the issues facing the transport industry.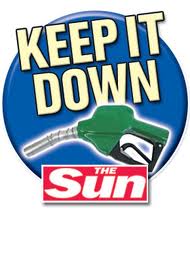 He went on say, "the price of petrol is so high that our members are having real problems passing the cost on. They can only run like that for a while before trying to recoup the cost – or they'll go bust.
"Our problem is the Government couldn't care less – I'm beginning to think they don't care how many people lose their jobs."
With diesel at a current average of £132.2p at the pump, of which 61% is taxed, the UK transport industry faces increasing competition from European operators making return trips to the continent.
Mr Dunning said he feared fuel prices would soar to 150p later this year.
Over 100,000 people have signed The Sun's "Keep it down" petition; you can sign The Sun's petition to freeze fuel duty here: