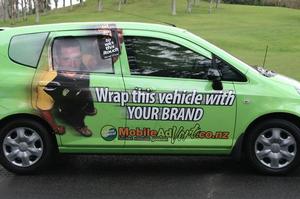 This was an interesting story we picked up all the way from New Zealand. Urgent Couriers saw a 12% slump in sales and so in an effort to help ease the pain have diversified into selling advertising on their vehicles, selling to the general public.
I for one, I'm afraid to say am a huge skeptic. They have diversified into the most hard hit market by the recession (advertising). Selling this space will be tough to say the least!
I think that Urgent Couriers are correct with looking to other avenues to increase revenue but are barking up the wrong tree here. Perhaps a small investment in advertising their own brand on the vehicles would prove more effective or better still looking at other non-advertising options.
Certainly there are a lot of options out there, thinking outside the box and looking at industries not so hard-hit is key however.