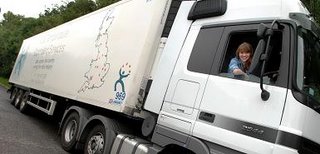 Despite the age-old stereotypes, you don't have to be wearing a string vest and sport a beer belly to make it in the transport industry. In fact, there are more women HGV drivers than ever before!
When you think of the average long-distance lorry driver, preconceptions do naturally spring to mind. Lay-by's, burger vans, yorkie bars……….
But, next time you are trundling along the motorway, take a look in the cab of a few HGV's and you might be surprised. Women lorry drivers are on the increase in the UK. Much of this has been put down to new technology which make driving easier and female-friendly company policies from the likes of Asda.
Gary Benardout, Advantage HGV: "Twelve months ago, female drivers represented about 2 per cent of our customers," says Gary Benardout, who runs the training company AdvantageHGV. "That has trebled in a year and the percentage is growing all the time. Any stigma associated with long-distance lorry driving is long gone. The industry is heavily regulated and the stereotype of the traditional middle-aged, Mars-bar munching male trucker is becoming a thing of the past."
Kaz Horrocks works for TDG Logistics:
"I've never felt unsafe, though," says Kaz. "There is a certain amount of curiosity from the men about why I'm driving a truck instead of working at a desk but, apart from the occasional snide remark, most of the guys are really friendly."

The lifestyle is insular by nature but even more so for women. "There is a male camaraderie that I am excluded from," Kaz says. "If I walk through a truck stop in a vest top, you can sense them watching — but I give as good as I get. It takes a particular kind of woman to drive a truck. It isn't something that a supermodel is going to do — you have to be a tough cookie."
Whilst the rise is sure to spark debate from male counterparts, some may like the female company in the lorry parks no doubt, some however may feel threatened in an employment area which is currently facing the worst layoff levels across Britain.
Billy Gilfoyle, 56, from Ellesmere Port in Cheshire can't understand why women would actually want to work with HGV's:
"I started in the Army," he says. "I loved it — the feeling of freedom. There was camaraderie in those days. If someone broke down, you'd pull over to help. Not now. Every minute of a driver's day is clocked by their bosses.

"I wouldn't want my sister or daughter to be a driver. I've no problem with female truckers but it's no job for work/life balance. One night you can be in Manchester, the next Newcastle. That's not good for family life.

"The truck stops smell of aftershave and stale urine — horrible. Despite the number of female drivers, women aren't catered for. There are one-sex loos and showers. I don't know why anyone would want to do this job."