Those expecting unbearable overcrowding and huge delays in London during the Olympics have on the whole been pleasantly surprised since the Opening Ceremony officially kicked off proceedings last Friday night.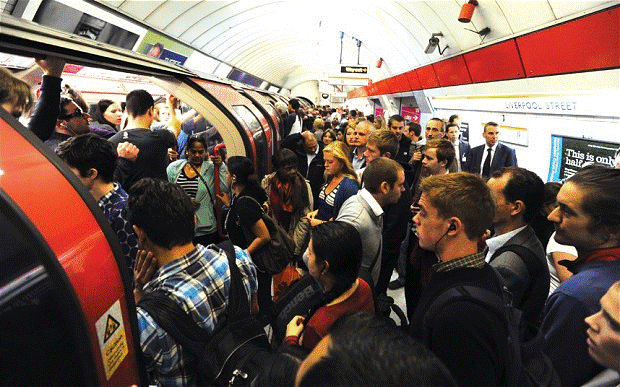 Workers have described the City of London as being like 'ghost town' this week as hundreds of Londoners have either packed their bags for a holiday or opted to work from home for the next two weeks.
It seemed like all the hype over the past few months of how busy and unbearable London would be had worked to the advantage of the Olympic organisers, with the transport system busy, but running remarkably smoothly.
That is, until yesterday, which heralded the first major problems across several overground and tube lines.
Services running to the Olympic Park and to Greenwich Park, where the equestrian events were being held, ran into problems.
Passengers on the Central line had to be re-routed onto the Jubilee and District lines after a driver smelled burning at the start of morning rush hour.
Two lines operated by Transport for London ran into problems, hitting services running to Olympic Park in Stratford and from central London to Greenwich Park, the site for equestrian events.
Signal failures and other disruptions caused delays on other lines, including the 140mph Javelin train linking Stratford to Ebbsfleet in Kent and St Pancras, which in turn held back Eurostar services at the station.
Despite these disruptions, the overwhelming impression is that London is managing to run a world class transport network for a world class event.
Much like for the athletes, London's transport commissioner Peter Hendy knew that these Olympics would bring both highs and lows for the transport system, admitting that some breakdowns would be inevitable.
As ever, it's not necessarily the problems that are thrown at you that count, it's the way you deal with them, and our observation is that the transport network and Londoners alike are doing a stellar job of keeping the city moving.