The heavy snow over the last few days has created huge delays for lorry drivers trying to leave the UK.
Lorries, trucks and HGVs wanting to cross the English Channel from the Port of Dover were asked to park on the coast bound carriageway due to the bad weather. This has turned the M20 into a giant lorry park.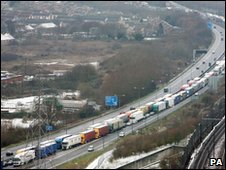 Heavy snow has caused substantial delays on the M20

Andy Pearson shared his thoughts: "What a way to start the Christmas week – I have to go all the way to Hungary and I thought I would be back to my family in Rochdale for Christmas. Now it doesn't look as though I'll leave England by then."
In early hours of Monday the M20 was re-opened after the backlog of traffic was cleared. Ferry services from Dover also resumed but were still subject to delays.
We hope that not so many couriers & haulage companies on Shiply were affected by this but if you were, please share your stories, we believe everybody is interested to know.