They call them 'Mini Monster Trucks', but these vehicles are not small by any stretch of the imagination, especially when parked up next to their drivers, who come as young as seven years old.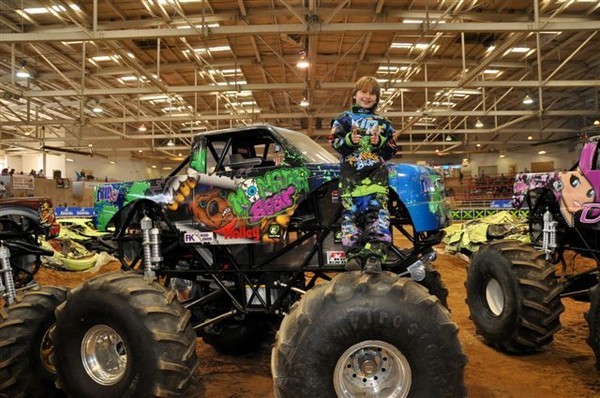 Pictured here with his truck, which he calls 'Monster Bear', is one of the starts of the stateside scene, Kid KJ.
Kid KJ started monster trucking at the tender age of just five and a half, at the time making him the world's youngest Monster Trucker.
So how does a six year old get into monster trucking? Well, in Kid KJ's case, the hobby runs in the family – his dad studied to be a mechanic, and his mum Nancy is a monster truck driver herself.
Kid KJ reportedly decided to take up the sport himself after seeing his first show when he was just three years old. Not content with an imitation monster truck go-kart, KJ "wanted a real one."
Clearly not one to follow the principle "I want never gets", dad Tod built a half-size replica monster truck for his son, who duly started racing it.
Now aged nine, the young prodigy has quite a repertoire: "I do wheelies and donuts, racing, driving over cars and off ramps, just like the big trucks do."
For anyone concerned about the safety of young children driving monster trucks, there are many measures in place to prevent them getting hurt.
The trucks can only reach maximum speeds of 25 mph, and drivers have to wear protective gear, including fire-proof suits and helmets.
Even without these precautions though, you get the impression that nothing would faze KJ who, when asked if he ever feels scared, boldly declared: "I never knew anything different. I've been driving everything since I was young, so I don't know how to be scared."