Note: we have listened to your feedback and removed Shiply Points & Transport Provider Level features from the marketplace.
We have created three new exciting features which will help improve your experience as a transport provider on Shiply further: Shiply Points, Transport Provider Levels and Listing Quality Indicators.
Here's the breakdown:
Shiply Points
Simply put, you are now awarded points for the most important activities that you carry out on Shiply:
1 Shiply Point when you log in (maximum 1 point per day)
1 Shiply Point when you place a bid (maximum 1 point per listing)
10 Shiply Points when you have a bid accepted
10 Shiply Points when a user leaves a positive feedback comment for you
But at the same time you can also lose points:
-1 Shiply Point when you withdraw a bid within 12 hours after it was placed
-20 Shiply Points when a user leaves a negative feedback comment for you
Transport Provider Levels
"Why do I want to gain Shiply Points?" Simple answer: Shiply Points determine your Transport Provider Level which is displayed alongside your username to your prospective new customers / users.
Your Transport Provider Level shows how reputable and established you are on Shiply and because it is displayed to users of the site, having a higher Transport Provider Level means your bids are more likely to be accepted.
Shiply Transport Provider Levels are determined as follows: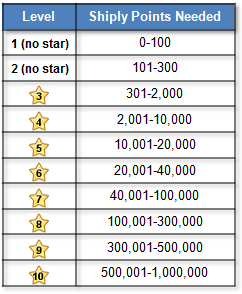 Listing Quality Indicators
We know how busy you are as a transport provider. Therefore, to make sure your time on Shiply is best spent, we have created a simple rating system for listings on the site.
There are three Listing Quality levels which are indicated with different colours shown in the table below.  We calculate the listing quality score based off a number of factors such as whether the user is responding to messages and checking their received bids.

We hope these new features will prove useful as a transport provider on Shiply. As always, we appreciate any feedback. Just drop us an email at mailto:f[email protected] share your opinion or leave comments below!