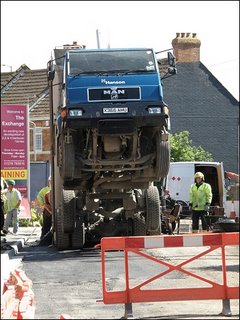 Now, I'm sure that we've all had bad first days at jobs. However, this driver from Burnham can't have had much worse luck.
The accident left him quite literally stuck in mid-air and had to be rescued by firefighters.
Police spokeswoman Cath Foster said: "The lorry was involved in an accident as it delivered tarmac to Worston Road. Fortunately, the driver who was stuck in the cab was not injured and was released unharmed."

An eyewitness at the scene said: "It was the driver's first day on the job, so he was left rather embarrassed by the whole episode."
To make matters worse, he's now a bit of a youtube star!
[youtube=http://www.youtube.com/watch?v=O7SWnc-fbTQ]