If you head out onto the motorway in the coming weeks don't be too surprised to see an over-sized family beaming at you. HGV driver, Lindsey Scott, is taking part in 'Take Me With You' – an art project that shines the light on long distance workers and their families.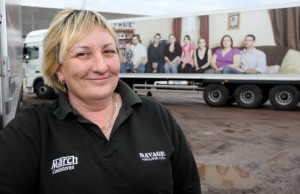 "Many drivers cover over 100,000 miles a year on the road network with some being required to stay away from home for many days or weeks at a time."
Lindsey, a mother of five, has a family portrait on either side of her lorry, measuring a whopping 13m x 2m (43ft x 6ft). Now the family follows her wherever she drives.
Paul Stearman, who is also taking part in the project, said, "i'm usually away from Sunday to Thursday and I really miss my family. I speak to them on the phone but it's nice to be able to take them along with me,' said 41-year-old Paul Stearman, who's been a driver for 24 years.