Surely one of the great mysteries of our time has come to light as Malaysian police attempt to track down 700,000 condoms. That's right, after being loaded on to a freight ship in Malaysia, the batch of condoms vanished en route to their destination in Japan. Upon unloading, the container was completely empty and its locks were changed.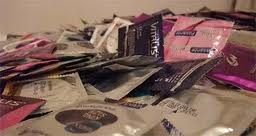 Sato Koji of Japanese firm Sagami Rubber Industries, who manufacture the condoms, said: "We are unhappy over the incident. This is the first time such a thing has happened since our Malaysian production started in 1997." It is estimated that the stolen batch has a retail value of around £1 million.
Although the story is comical, police officials do not see the funny side. A police spokesperson added: "We take the matter of the missing condoms very seriously… we are investigating the matter."
We want to know how you would even go about getting rid of such a large stash of goods, let alone condoms!