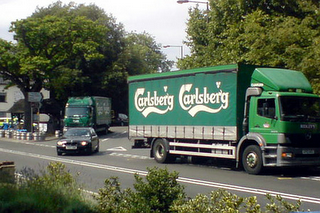 A Carlsberg lorry yesterday shed it's load of kegs on a busy Suffolk road.
Passers-by said that the lorry took a sharp turn and a dozen or so kegs flew off in every direction.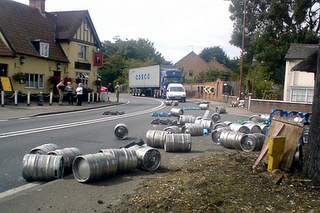 Elly Henson, who was in the traffic next to the lorry when the kegs fell off, said: "The side of the lorry was made of material and it looked like it may have come undone and then they fell off as it went round the corner.

"The kegs were all over the road, there was a wall that had been smashed in and the local bus stop had also been hit.

"The whole junction was just covered in beer kegs."

Miss Henson, of Saxmundham, added: ""I saw the lorry driver and he was just scratching his head."
Luckily no-one was hurt, and the local drunk was on the scene within minutes to assess the spilt load.