Have you ever come back exhausted from a day's shopping and wondered where all your energy went?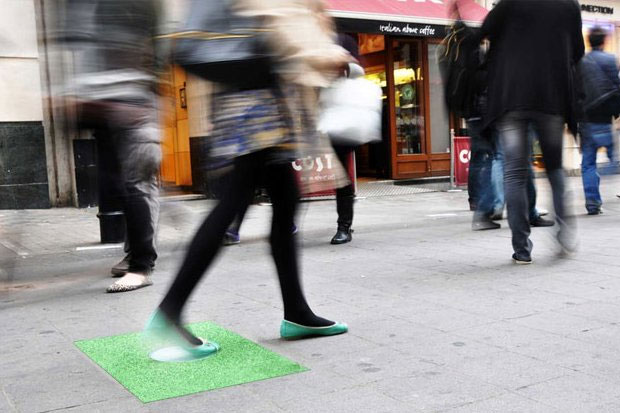 The chances are you probably covered some distance rushing from shop to shop trying to catch a bargain and much of your energy will have been absorbed by the concrete of the pavement.
In an innovative bid to put this wasted energy to use, London's Westfield City Shopping Centre has become the first place in the UK to place an order for some rather snazzy sounding Pavegen slabs.
The rubber slabs use kinetic energy (that's the energy generated by the movement of walking, for example), to convert shoppers' footsteps into electricity.
The colourful rubber squares will be scattered among the normal paving slabs of the shopping centre, and will flex about 5mm when stepped on.
It's this flexing that allows the slab to absorb the kinetic energy from the footstep either to be stored in a lithium polymer battery or be used instantly to power nearby electric appliances, such as lights.
In order to minimise the impact of the environment of manufacturing the slabs, each one is made from recycled materials such as old tyres and has an estimated life-span of 5 years, or approximately 20 million steps.
Not only will these innovative gadgets create 2.1 watts of sustainable electricity per hour for the shopping centre, they'll look pretty cool too – each one will glow faintly when stepped on, at a cost of only 5 per cent of the energy produced by the slab itself.
With around 30 million shoppers visiting Westfield each year (and we can imagine lots of kids excited by the magic glow), these green gadgets are set to be a sure-fire hit.