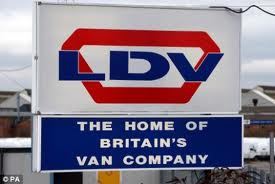 Now, we've all heard of the issues that car and van manufacturers are facing. LDV Vans for example are really struggling. However, you would think that when a successful courier firm comes knocking on any manufacturer's door the colour of the requested vehicle wouldn't be an issue!
However, that is exactly the problem currently faced by Scotland's Eagle Couriers. They have been told that there is a Europe-wide shortage of red vans.
Jerry Stewart, director, said: "It's incredible. Here we are, a Scottish success story, business improving thanks to our growing reputation for quick

delivery

across the UK and we're stumped for red vans.
"If we can't source red vans soon – or if we don't hear of red vans being available – then we may have to look at changing the fleet over to another colour.
"Apparently there's something like 23,000 white vans lying unsold in Europe, so that may be the way forward, but it would be a shame to lose our distinctive livery as it's built up a lot of goodwill over the 30 years we've been in business.
What is interesting however, is the research carried out by Daimler Benz a few years ago, which found that white was the safest colour for a vehicle in most lighting conditions.
Another study, carried out in 1995 in Europe found that white fire engines tended to be in less accidents than red ones. Similar results were recorded in the USA.
So, despite the age-old stigma attached to the "white van man" and his own rules of the road, perhaps they are safer in white. And do couriers really even have a choice!?