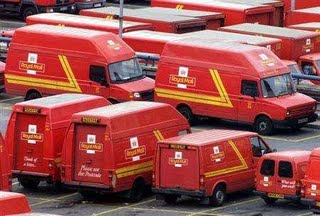 Royal Mail last night admitted that at least nine million items of post are either delayed or caught up in problems. A ballot has shown that a proposed 2/3 of the workforce are preparing for a natonal strike which will cause further chaos.
Strike action has already been underway since June 19th, with postal workers on strike in some part of the country once every other day. This staggered striking system has caused the severe delays resuting in 1 in 8 items of post officially being undelivered.
The union believe the actual number of delayed post is in excess of 25 million.
Proposed full national strike action, if it goes ahead will be the worst seen since 2007.
Small business leaders said that the disruption is now a "national strike in all but name". Stephen Alambritis, spokesman for the Federation of Small Businesses, said: "The strikes are affecting everyone – and it is more hurtful because of their sporadic nature. It is hitting small businesses from John O' Groats to Land's End. This is a national strike in all but name."
It is estimated that already tens of billions of pounds of cheques are either or delayed or stranded in the postal system. Over a third of utility customers are still refusing to pay their bills by direct debit and most small businesses are of course reliant on these postal payments.
Mark Higson, the Royal Mail's managing director, said: "The CWU leadership is well aware that it has already agreed all the changes Royal Mail is making.

"We urge them to recognise the tough economic conditions faced by all our customers and Royal Mail itself and to live up to their claims to support modernisation and to focus – as the company is doing- on delivering the postal service on which so many customers depend."
At Shiply, we agree that modernisation has to happen at Royal Mail, however this should not be used as an excuse to cut jobs & costs, rather a way to improve the service for everyone involved.