Sainsburys have made the decision to limit the speed of its lorries to 50 mph. So from now on don't be surprised if you see this on the road, after all, they are just following the company policy: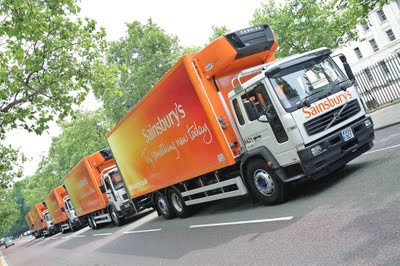 50mph and no more…
Whilst Sainsbury's has yet to answer calls about its reasoning behind the speed limit introduction, its drivers had no such shyness in expressing their opinions.
Jon Garner says: "I was being overtaken a hell of a lot, which you can understand, and on three occasions I had to drop down to around 45mph to enable people to enter the motorway network. Have they set the limiter too low at 50mph? I don't think having to drop down to a speed of around 45mph to keep the road running smoothly is safe."
Further more, a Sainsbury's agency driver reckons other lorry drivers think they are 'messing around' and are cutting in as closely as possible.
In our opinion, whilst this speed limiter may be good for fuel saving and CO2 emissions reduction, Sainsbury's may end up putting their drivers in constant frustrations on the road, which is a contributing factor to road accidents.
So will this policy do more good than harm? We are frankly not very sure.