A lorry driver attempting to deliver his cargo to a local convenience shop has instead managed to become a national laughing stock. After following his Sat Nav the hapless driver wedged his phenomenally oversized lorry in the narrow street between two old buildings. The lorry became well and truly stuck when the driver tried to reverse only to find that the lane was too steep.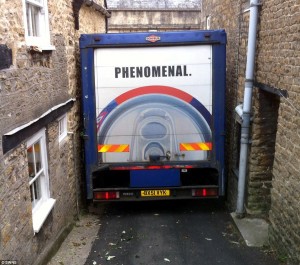 The local pub landlord had this to say about the unfortunate event – "Very little happens in Bruton, so this event was the talk of the town and the driver got ripped to pieces by the locals when he came into the pub," he said. Despite the playful mood of the locals, the boss at Ian Crank Soft Drinks was not so quick to banter. The lorry driver suffered further disaster when he was suspended from his job, Ian Crank not letting the Sat Nav take the blame.
After a 26 hour rescue operation the lorry was final freed only causing minor damage to the surrounding buildings. The driver will now join the hall of fame of Sat Nav blunders, but at least he did not blindly follow his Sat Nav into a river as Petra Lang did earlier this year.