Transport providers can now use Shiply anywhere with the official iPhone app. You can download  the Shiply for iPhone app here.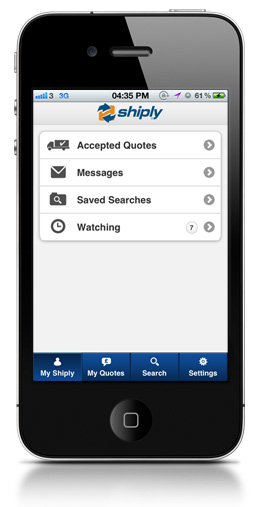 The Shiply app makes it even easier to manage your delivery work on Shiply:
Find Work
Find delivery work anywhere. The search page will show you the delivery photo, collection and delivery locations and current bids for each result. Once you've found a suitable delivery you can lookup additional information such as mileage and place a quote.
All your searches can be saved for quick access from the homescreen.
Ask and answer questions
Keep in touch with your customers on the road using the powerful messages function
Keep Track of Deliveries
Using the My Quotes section you can quickly look up all your accepted, current and declined quotes in one place.
Local Deliveries
Using  the geo-location service on your iPhone you will be able to quickly search for delivery jobs close to your current loaction
View delivery details
and use the in-built Google Maps feature to see the optimal delivery route
Notifications
Get notifications straight to your iPhone when your quotes are accepted or declined and when you receive messages