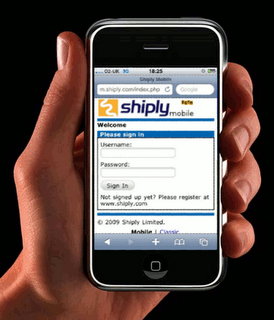 We are very pleased to announce that after countless hours of development, Shiply Mobile is now officially live. It is completely FREE OF CHARGE to all of our members.
Shiply mobile can be viewed from any mobile device, such as the iPhone, blackberry, PDA's, smartphone, or even that banged up old Nokia sitting in your drawer at home. So, now you can access Shiply in a friendly, quick format wherever you are.
Shiply mobile has been designed for both transport providers and users. Here are the main features:
Transport Providers
Keep track of your current bids
Keep on top of your messages requiring a reply
See if you have new bids accepted whilst out on the road!
Carry out searches (all location, route and local)
Place new bids
Users
View your active shipments and keep on top of new bids
Answer any messages transport providers may have for you – whilst you're out and about
Accept bids (don't miss out on that great price just because you can't get to a computer)
We are really proud of Shiply Mobile and hope that it will make using Shiply on the go, that much easier and quicker.
The platform is under beta status, whilst we have carried out loads of testing, we do expect there to be the odd little bug here and there. So, if you do find any, please let us know! Also, please do tell us what other functionality you would like to see.
We hope you enjoy using Shiply Mobile as much as we have enjoyed making it. Expect more exciting developments soon!
The mobile site can be accessed via: http://m.shiply.com.