A father of three who got fed up with waiting for the local council to act on their primary school's request for a zebra crossing has come up with an innovative solution of his own to keep young pedestrians safe around the area.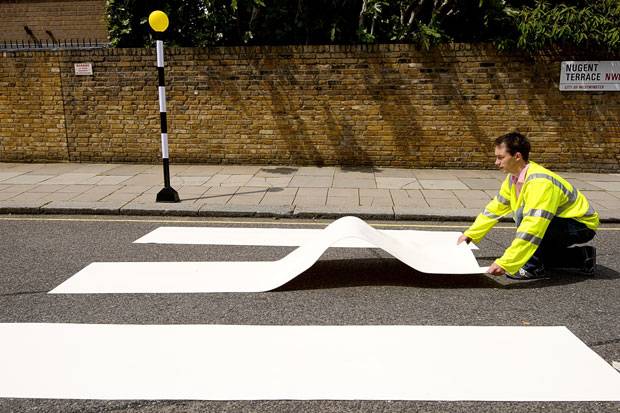 While Kingston council dithered over the decision to put in a zebra crossing outside Alexandra Infant School and the neighbouring St Paul's C of E Junior School, claiming it would cost a staggering £12,000, Yannick Read was able to create his own for a much more reasonable sum of £50.
The device, which takes a minute to set up, is made of drainpipes, party balloons and lino, but according to Mr Read works just as well as the real thing when it comes to stopping traffic.
Unfortunately, not being the real thing, Mr Read is fully aware that this pop-up zebra crossing is most probably "highly illegal".
This does not deter the inventor and father of three, however, who is happy to engage in a bit of civil disobedience to campaign for a deadly serious issue – in the past six months a child was knocked over outside the school and another at a neighbouring school was killed.
Mr Read, who works for an ethical motoring firm, is keen to share his experience with other parents and hopes to shame the council into taking action.
With a cost saving of around £11,950 on the stated cost of a proper zebra crossing, perhaps local councils should be looking into the popup model as a cost-effective way of getting safe crossings to traffic hotspots more quickly and efficiently, especially when it comes to the safety of children on the roads.