As the amazing photo shows, a golden eagle found itself lodged through a trucks windscreen after being hit at a speed of 60mph. The accident came about when the eagle flew in the wrong direction whilst feeding on a dead deer on the road.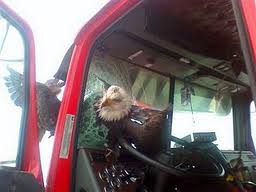 "I heard a loud thump like a brick or something coming through the glass," said Daryl Young, the co-driver who was dozing in the sleeper berth when it happened. "I woke up, and the windshield was all over me. Next thing I know there was a big bird lying on the floor."
However, after being examined it was concluded that despite the odds, the young female suffered only internal bleeding and that no bones had been broken. Wiegle, nicknamed for being a 'window eagle,' was taken to Teton Raptor Center in Wilson, Wyoming, where she was nursed back to full health. After proving she could hunt, feed and fly independently she was released back into the wilds of Bear Lake, Idaho.
Teton Director Amy Brennan McCarthey said: "This return to the wild qualifies as the most remarkable among our success stories. We are very proud to play a role in giving this eagle a second chance at freedom."