With the modernisation of the postal system, we probably only see postal birds in movies. However, in some special circumstances like the one below, can they really be the best delivery solution?!
This pigeon team (nicknamed Pigeon Express), from the US city of Fort Collins, Colorado are believed to be the last delivery birds in the world. They fly 20 to 40 miles from the top of the Cache La Poudre River down to the base at the bottom to transport images of intrepid white water rafters to be processed.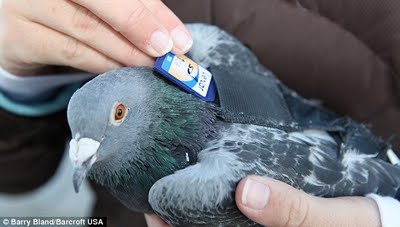 One Pigeon Express member ready for action
As it takes the pigeons just 20 minutes to fly this distance, it is much quicker than driving down from the river. Therefore, the birds have been trained for this special
delivery service
and normally fly five times everyday.
There's only one problem for the pigeons: since the pickup location is high on the mountain, they run the risk of being KIA because of hawks and eagles!
David Costlow, the head pigeon keeper said: "We lose five on average every year. But we've only lost seven digital chips in the last 14 years."
Amid the current postal strike and with thousands of pigeons out of work since the famous Trafalgar Square banning, could this be the future of express delivery solutions?!