Walking down the street with my girlfriend just the other day, she swung her arm around and almost shouted "what the hell is that!!". Expecting to need to duck for my life, I turned only to be met with the huge presence of one of TK Maxx's new lorries.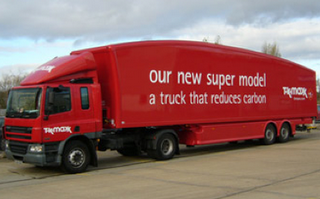 The picture doesn't really do it justice, it is an absoulute monster!
According to TK Maxx:
We've been among the first to get these supermodels on the road. They are another aerodynamic innovation predicted to reduce carbon emissions by an estimated 10%.
Not only that, but we think they're a great way of maximising load space – that is so long as they can use all of it!!