Top Tips for Festival Travel
You've managed (often by some miracle) to get yourself a ticket to one or more of the big music festivals of the year. But how are you going to get there? Here are some travel tips for whichever method of transport you choose, or if you haven't decided, might help you make your decision.
Coach/bus
Pros – Direct to the festival entrance, can sleep on the journey, no stress of driving
Cons – Can be a long journey, limited to what you can carry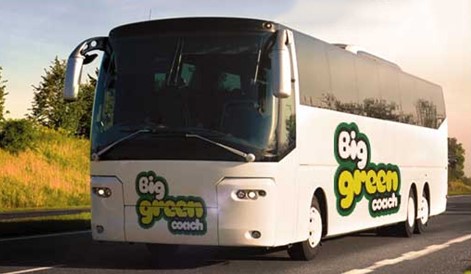 Image Source: boardmasters.co.uk
Package deals – Coach/bus tickets are often sold in a package deal with your festival ticket, and in some cases, coach + festival tickets are released to the public before standard tickets. Even if the coach might not be your first choice of transport, you may prefer to tactically get a coach+festival ticket as this gives you two chances to get those must-have tickets. Remember though, if you do buy a coach+festival ticket package, you do actually have to travel this way as they often do not give you your festival ticket until you're on the bus.
Research – If you decide to take a coach/bus later in the day, you will need to find companies yourself. Big companies like National Express or Big Green Coach offer festival-specific services, but others may only go to the nearest town. Make sure you do your research to have a realistic idea.
Hand luggage – You'll often be on the road for a long time, so make sure you've got a smaller bag for journey essentials like your phone, snacks, earphones and anything else you think you'll need easy access to.
Travel as light as possible – Easier said than done, but if you can minimise your luggage you'll make your journey a lot easier. If you've still got too much, try asking friends in advance that are travelling by car if they can take some of your items, but be prepared, as this may involve multiple treks to the car park!
Train
Pros – Speed, can sleep on the journey, no driving
Cons – Often expensive, rarely gets you the whole way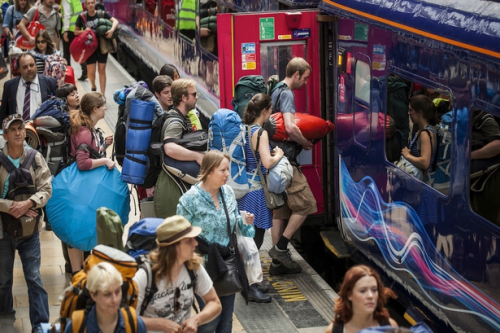 Image Source: mirror.co.uk
Think about timings – A lot of people will be travelling to the festival this way and your train ticket does not guarantee you a seat. You may want to delay leaving until the crowds have died down. Book the train as early as you can to avoid disappointment and price hikes. Look out for cheaper off-peak times which could save you a nice amount of money.
There will often be more parts to your journey – The nearest train station could be right near the festival, or an unwalkable distance away. There will often be shuttle buses running between the station and the festival entrance, but if not, you may need to fork out for a taxi ride or a local bus. Make sure you know what to expect and if it involves a lot of walking, make sure you pack as lightly as you can.
Car
Pros – Often cheaper, not governed by timetables
Cons – Driving can be stressful, long queues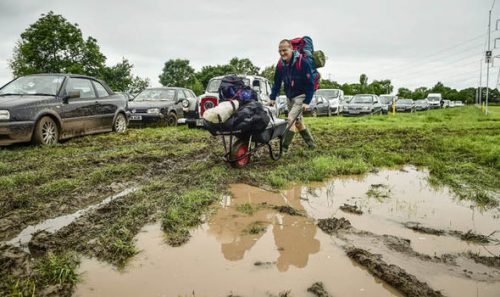 Image source: express.co.uk
Choose your parking location strategically – If your friends have a camping area in mind, try and drive to the closest car park. This might not always be feasible, but the closest you can get to where you're actually camping, the lower the stress levels will be when dragging all your stuff back and forth to the car.
Use apps to pinpoint your car's location – If you've got your smartphone with you, pin your car's location on Google maps. This will help you find it again, whether it's on the way home, or whether you need to make multiple trips to the car throughout the weekend. This tip is also useful for your tent location and could save you a lot of time wandering around a field of similar looking tents in the early hours of the morning.
Don't forget parking tickets/prices – Car park tickets/stickers are often sold separately, so make sure you've got yours stuck on the windscreen before you arrive. It also acts as a cool souvenir that you can keep in your car until the next festival
Try not to overfill – It's easy to get carried away by packing everything you *might* need over the weekend. Be realistic about what you and your passengers can carry before stuffing the car full of gazebos, camping chairsand the kitchen sink.
Have a campervan? – Campervans are the ultimate festival swiss army knife as they are your transport, tent, and canteen, all rolled into one. Festivals will likely have a separate campervan ticket price, so make sure you buy the correct one. The only other thing you need to worry about is brushing away the envy from the other festival-goers!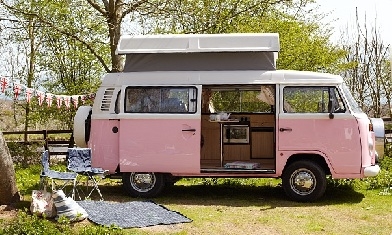 Image source: loveglamping.co.uk
In summary, thinking about your transport options in advance can save you a real headache (and often a lot of money) than arranging it nearer the time.
Happy camping!