Mark Cavendish proved to be on top form on Monday, leading a tight sprint finish to win the second stage of the Tour de France. With Cavendish looking to be a strong contender for the green jersey for best sprinter and teammate Bradley Wiggins as favourite to win the Tour, all eyes are on team Sky to achieve something incredible this summer.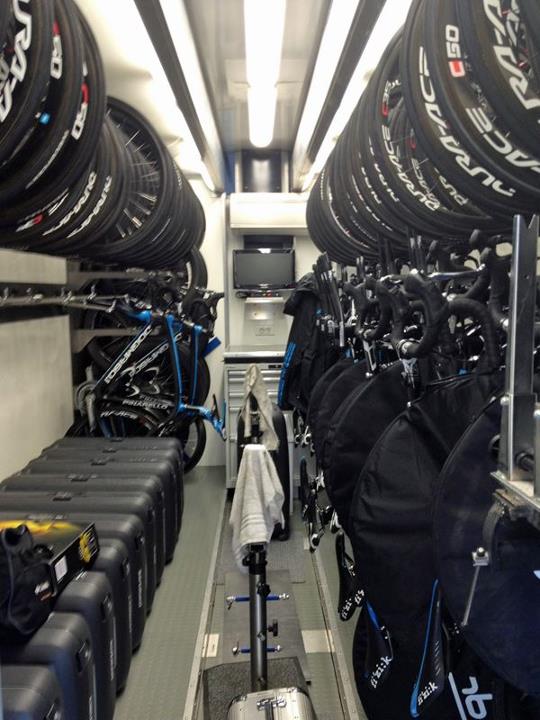 While it's the riders that claim the spotlight with their jaw-dropping feats of endurance and photo-finish sprints, none of their achievements would be possible without a supporting team working equally hard on the logistics preparation in the run up to and during the Tour.
Have you ever noticed a rider change bikes half way through a stage? In case anything goes wrong they have to have a spare on hand to minimise any time lost, so each rider will have at least two road bikes with them on Tour, plus one time trial bike for the sprint stages.
Considering team Sky has 9 riders for the Tour de France, that's a minimum of 27 bikes, all of which must be stored neatly and securely in the team truck to avoid damage.
Then there's the matter of ensuring the bikes are on hand when a rider needs to make a quick change mid-stage. For this, Sky will be using Jaguar XF Sportbrakes with customised roof racks with capacity for 9 bikes, race radios and TVs to be on hand for their riders (hopefully at the front of the peloton!).
Finally there are the two team buses, which each cost around £750,000 to buy and customise. These are designed to keep the riders comfortable and motivated on the way to the race. There are 9 seats for the riders, an office-style compartment at the back, and laptops connected to a satellite dish for each team member.
Once the riders are safely at the race with the right bikes and support staff around them, the rest is up to them. We'll be watching with baited breath to see if Wiggins and team Sky can rise to the occasion and bring home the maillot jaune.