Normally, if we see a truck on the road, it can come in different sorts of colour: black, white, red, yellow, blue, green, mixed etc. but very rarely in pink!
So it must be special if a truck is in pink and in this case it is indeed very special. To express his love for his daughter Isabelle on her birthday, argicultural haulage driver Edward Robinson has ordered a brand new pink cab just to make her happy.
Isabelle must have been the happiest girl on her second birthday whilst other little girls might get a doll or a puppy for their birthdays, Isabelle's special present was a huge Mercedes Actros tractor unit bearing her name and painted in her favourite colour pastel pink.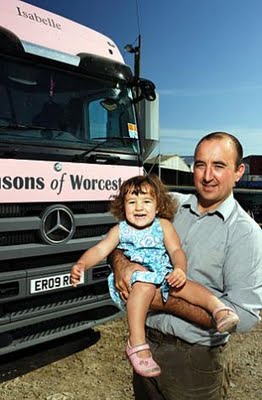 Edward and happy daddy's princess Isebelle besides her birthday present
Whilst Edward is now a heroic father in Isebelle's eyes, he seems to consider the birthday present as very normal:
He said: "I was pleased with the price and the product looks very good. And of course Isabelle absolutely loves it."
What a great father he is! We hope Edward is doing well with his haulage business and makes Isebelle even happier in her birthdays to come.