Any commuter who travels to work during rush hours would probably consider their route as the most overcrowded. However, a recent study from the Government has revealed the busiest route in the UK is the 7.44am Henley-on-Thames to Paddington station in London.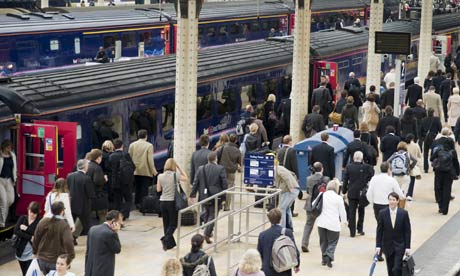 The 7.44am Henley-on-Thames to Paddington station is UK's busiest commuting route
The train which has a load factor of 180%, takes commuters from Oxfordshire into the capital. Following the publish of the figures, the First Great Western train company has increased the number of standard class seats to 340.
Of the top 10 busiest commuting routes, the least busy has an over capacity figure of 52%.
Transport Minister Norman Baker said: "Climbing on a crowded train where there is little space can often be an unpleasant experience and I sympathise with passengers who have to travel on these services.
"The operators on the list are aware of the crowding problems on these particular services. I will be monitoring these services closely, and others which have not made the top 10 list, and urging train companies to reduce crowding on the busiest services."
These are the top 10 UK busiest routes which you probably want to avoid:
1. FGW 7.44am Henley-on-Thames to London Paddington 180%
2. SWT 7.32am Woking to London Waterloo 164%
3. LM 6.13pm London Euston to Birmingham New Street 162%
4. LM 4.48pm Euston to Birmingham New Street 160%
5. FGW 6:30am Banbury to Paddington 158%
6. LM 7.55am Stourbridge Junction to Stratford-upon-Avon 157%
7. FTP 6.23am Manchester Airport to Middlesbrough 155%
8. NE 6.17pm London Liverpool Street to Shenfield 154%
9. LM 7:14pm Alton to Waterloo 152%
10. LM 5.46pm Euston to Birmingham New Street 152%