When newly-wed HGV driver Andy Seller was waiting for his bride Jenny to arrive at their wedding reception in York, he probably was expecting a white stretch limousine or horse-drawn carriage.
Instead, much to the surprise of Andy and passers-by, Jenny arrived in a Scania Lorry – decorated with Siberian tigers!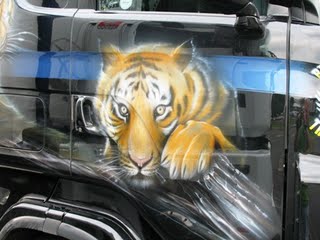 Still, quite a fitting entrance: Andy proposed to Jenny inside his own lorry last year and Jenny currently aims at becoming a lorry driver herself.