If it isn't commemorative crockery, it's Royal top trumps – you cannot move for Will and Kate related merchandise as the Royal Wedding looms closer. Keen to get in on the action, the Royal Mail will be issuing commemorative stamps of Prince William and Kate Middleton.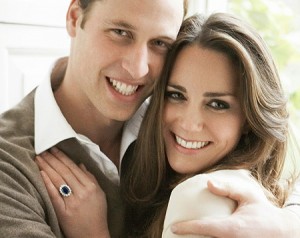 The formal picture was taken in the Council Chamber of St James's Palace in London and the "informal" image shows the couple in the Palace's Cornwall room.
"We are honored to be celebrating this very special and historic occasion," said the Royal Mail's Stephen Agar. "We believe that that this set of stamps will be very popular with people both in the U.K. and around the world."
You can bang down the doors of you local Post Office on April 21st, 8 days before the Royal Wedding. Plenty of time to send post to your jealous friends across the globe.