A Belgian driver who wanted to pick up a friend from the train station 38 miles away from her home in Solre-sur-Sambre, ended up 900 miles away in Zagreb, Croatia due to a problem with her sat-nav.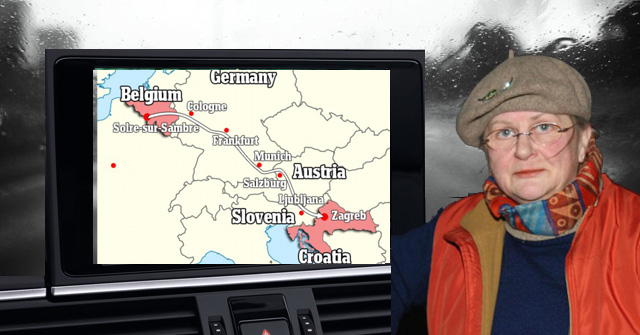 Sabine Moreau made an astonishing 900 mile journey across Europe without realising she was following the wrong directions
Although Sabine Moreau, 67, stopped several times to refuel her car during the journey that crossed 5 borders with multiple-language traffic signs, she did not stop until 2 days later when intuition told her she may no longer be in Belgium!
"I saw all kinds of traffic signs. First in French, then in German – Cologne, Aachen, Frankfurt. But I didn't ask myself any questions. I was just distracted, so I kept my foot down," Sabine told a Belgian news website.
Ms Moreau finally made it home 60 hours after starting her journey, just before the police in Belgium launched a manhunt for her after being alerted by her son.
A police spokesman said: "This is an incredible story. These GPS systems cause problems from time to time but nothing like this. But this woman has done nothing wrong and we just have to believe her".