We recently blogged about how traffic jams cost UK drivers 32 hours a year and London drivers in particular suffer 66 hours a year; wasting precious unproductive time.
We thought London was bad until we see images of Sao Paolo; the city of traffic jams and we realise how lucky we are.
The biggest city in Brazil has 11M people is perhaps the world's most congested city, with  all the tailbacks in and out of the city extending for a total of 180km (112 miles) on a normal Friday evening. The distance from London to Birmingham!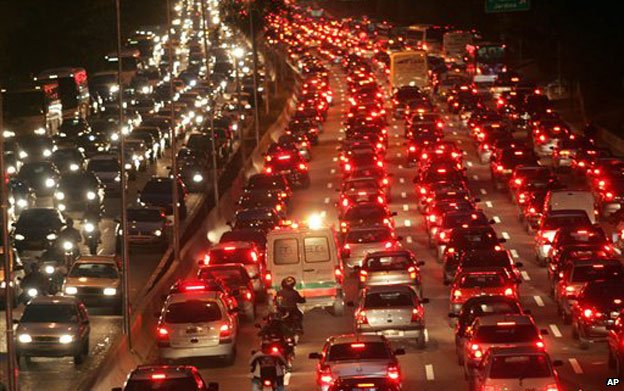 Sao Paolo "sea of cars" (source: bbc.co.uk)
Fabiana Crespo, a local, who spends more than 4 hours travelling from home to work and back, calls it "the sea of cars". "We have become slaves of traffic and we have to plan our lives around it," she said.
The traffic in Sao Paolo is so bad that there is a 24/7 radio station, Sul America Traffic Radio, dedicated to reporting traffic conditions and alternative routes to motorists.
Victoria Ribeiro, a reporter whose job is to drive around the city to find alternative routes, said:"I have been working with the radio since its beginnings and we can see the traffic is only getting worse, as more cars are coming onto the streets."
When terrible traffic condition is a frustration for the majority of the city motorists, the wealthy are offered a solution; private hire helicopters.
Sergio Alcibiades who uses the helicopter taxi service to meet clients few times a month says"If I hire a helicopter for a few hours I can hop between helipads and have three or four meetings in one day, which would be impossible if I had to move back and forth by car. For me this is a tool to make money."
We seriously hope no city in the UK is going to face as many traffic jams as Sao Paoloor else we might experience something even worse; helicopter jams!